"Our Children-Now Holding Hands"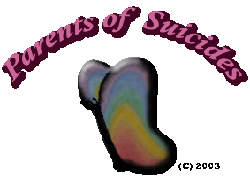 Member: Steve





~~In Loving Memory of~~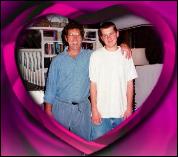 Connor Louis Berry (almost 17)
1-14-83 - 11-7-99
Parents: Steven and Janice

He came to me and said, "Dad, I am the man in the arena".
I said what do you mean?

"The Man in the Arena"

It is not the critic who counts. Not the man who points out how the strong man stumbled or where the doer of deeds could have done better. The credit belongs to the man who is actually in the arena, whose face is marred by dust and sweat and blood; who strives valiantly; who errs and comes short again and again; who knows the great enthusiasms, the great devotions; who spends himself in a worthy cause. Who, at the best, knows in the end the triumph of high achievement, and who at the worst, at least fails while daring greatly, so that his place shall never be with those timid souls who know neither victory nor defeat.

-- Theodore Roosevelt







Member: Irene
South Africa





~~In Loving Memory of~~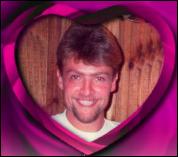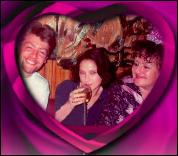 Carl Ivor Coetzee (22)
11/17/76 - 2/12/99


To Carl

My blonde little boy
My bundle of joy!

I remember the first time I looked upon you
and smiled into those eyes so blue

Your first laugh, smile, and first word
I remember the carefree days of your early world

Life didn't treat you kindly
And all around you carried on blindly

If only you had shared your pain
Did you think your loss would be our gain?

Who would of thought
Your life would be cut so short

You were my little man
My pillar and helper and sturdy as a rock
Oh how I wish I could turn back the clock

You were my everything for so many years
and now all I have left are rivers of tears!

Mom







Member: Laura
Texas, USA





~~In Loving Memory of~~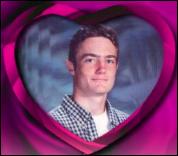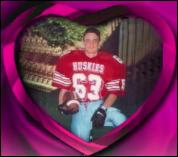 Ricky Lee Burt (15)
4/13/84 - 2/19/00
Ricky was a very special person. He was always smiling, and so full of life. We all love him very much. He will be greatly missed by many people. He touched a lot of hearts in his too short life. Here are poems that two of his close friends wrote after he died. They gave them to us at his memorial. We buried him in Odessa, TX. where we moved back to after Ricky died. And then we had a memorial for him in Wichita Falls, TX. where we had been living for the past year and a half. And then the last poem is by another of Ricky's close friends.




"Ricky"

The angels of Heaven
come down to share
The happiness we had,
But now have to spare.

His smile was true
And eyes were so blue
The cheery mood
That everyone knew.

His hands so gentle
His voice so soft
His friendly hugs
That seemed to make everyone's day
And somehow he always showed us
the right way.

The thought that he is gone
Is so hard to believe
But something's we just can't retrieve

He's in our hearts
He's in our prayers
He's in our memories of
everything we shared.

I wipe my tears
And dry my eyes
Wishing I had a chance to say
Good-bye

To: My Sweetheart-Ricky Lee Burt
From: Your Dear Friend-Jessica Leigh Price

"The Words"

The words to say that
would of made you stay
To not go too far
or fall astray
The words are strong
The words are soft
It wouldn't be long
Before you flew off
To heaven you flew
Where the skies are blue
And you look down now
And see how much everyone loves you
I Love You so much
without a doubt in my mind
But your friendship is all
I wanted to find
I found this in you
Because the words you spoke were true
Now all I want to do
Is sit back and say I Love You
I Love You for your ways
And all the convincing words
you had to say
So now I sit and pray
And think of the words I
could never say.....
By Tiffany Storer
In memory of Ricky Lee Burt 1984-2000




You will be in my heart always and forever. I'll never forget the wonderful guy you always were to me. I respected you very much and so did everyone else. We all Love you and hope your flight home was peaceful, and you are loving every minute of it. Bye for now, but not forever. You are a dear friend. I Love You!!

For Ricky - I Love you so much.
Ricky was like no other. I had never had a friend with a heart as big as his. He was my other half..The pea's to my carrots.. Sometimes I wonder why I am still here. And then I remember why I am sad. My heart is heavy with a sadness that is almost unbearable. I miss him so deeply... I don't think I can let him go. Part of me never will... I don't know how to feel.. I feel left behind..Betrayed, and Hurt so terribly. I hope that his soul has found peace.. For mine cannot. I felt like I was falling. All I could feel, was the silent tears and memories.... This sadness is deep within my soul. And I am left with nothing but vivid memories of a boy I used to know and love. My body is weak..My eyes are red with remorse...My heart screams for answers and relief. To know that my Dear sweet Ricky is safe. The endlessness of my grief will always be portrayed as a love so rare.. strong, and forever, I am Burning for his voice to tell me It'll be OK... I AM empty.. As I laid in my bathroom floor and cried for someone who would never return my Pleads and cries.. I wondered If he was listening to me.. I began to talk, as if he was there..

Ricky, I loved you so much.
Your are forever a part of my Heart, and soul.

By Jennifer Ridling, For Ricky, With the Deepest
of love from my heart.

We love you and miss you very much Ricky.
Love Forever,
Mom, Dad and Brittany







Member: Trisha
Oklahoma, USA





~~In Loving Memory of~~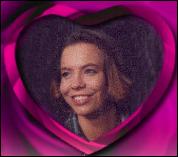 MITZI ANN POOL (18)
12/18/78 - 12/2/97

HAVE YOU SEEN MITZI?

Mitzi was a lovely girl that couldn't see the beauty she bestow. Her life was cut too short. She could have gone so far in her life. She was a very intelligent girl. Mitzi wanted to be a lawyer and she would have succeeded. We always told her she would be good as a lawyer because she would argue with a fence pole and win. She could look you in the eye and tell you the biggest lie and you would believe her even though you knew it wasn't right. She always convenienced me. We miss her so much. She is my hero and the wind beneath my wings.

HAVE YOU SEEN MY DAUGHTER, LORD?

She's five-three with shoulder length brown hair.
A smile that everyone remembered and adored,
With a personality like she didn't care.
Remember the day you gave her to me?
A precious little thing so full of life
So innocent to the world we see
Her youth so full and bright
Oh she had to grow-up too fast
Could never wait for her tomorrow's
In her mind nothing would last
But she had hid so many sorrows.
You picked her up high
When rough times had her down
She was reaching for the sky
And turned her life around
We were all so proud of her
With all she had done
Eighteen years of life-
It is hard to believe
So full of ups and down
Than most will ever see
If only we had seen that night-
My little girl with her heavy load
She might be coming home tonight
To be protected from the cold
So Lord, when you see her
Please hug her for me
Tell her we all love her
And someday her smile again we'll see.

MITZI'S MOTHER
12-18-78 12-02-97










Member: Jonna





~~In Loving Memory of~~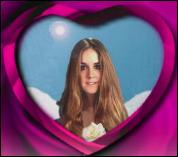 JESELYN MAY SEPS (15-1/2 yrs. young)
1/29/84 - 7/31/99

It's a year now and no easier to bear than it was... Here is your favorite song from me...

ONE SWEET DAY

Sorry I never told you
All I wanted to say
Now it's too late to hold you
Cause you've flown away
So far away

Never had I imagined
Living without your smile
Feeling and knowing you hear me
It keeps me alive
Alive

And I know you're shining down on me from heaven
Like so many friends we've lost along the way
And I know eventually we'll be together
One sweet day

Darling I never told you
Assumed you'd always be here
I took your presence for granted
But, I always cared
I miss the love we shared

Although the sun will never shine the same
I'll always look to a brighter day
Lord I know when I lay me down to sleep
You always listen as I pray.

Sorry I never told you -

All... I wanted to say...
" I love you sweetheart"

Forever YOUR mom

by Mariah Carey



Member: Sue Knight
New York, USA





~~In Loving Memory of~~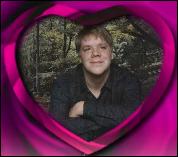 In memory of:
David A. Knight
2/19/77-5/26/00

"Our beloved son"






Member: Pat L.
South Carolina, USA





~~In Loving Memory of~~


KEVIN ANDREW LEWEY (27)
05/02/69 - 04/18/97


KEVIN ANDREW LEWEY
MAY 2, 1969 - APRIL 18, 1997

Sweet, gap-toothed smile
Braces took away, yet still today
I see your angel face
Never replaced
In my heart

Little son, so undone,
One droopy eyelid just like mine,
I keep you near, ever clear,
Your honest face, no disgrace
Forever good,
And you should
Be in a place of love and grace

God is kind,
So never mind
Your deed is done
My first born son

A day will come
We'll see the sun, and heavens move,
The earth will quake;
We'll know together
Sorrows shared
Gone forever.

Precious star, you were too bright,
and your light so brilliant shown
It was known
Couldn't last

But you held fast
Until you knew
It was through,

And your last gasp
You heard
The music
You loved.

Never will you be forgotten as long as I live
Never will my love and prayers stop-as long as I live.

"Mommy, Mom, Ma"

----------------------------------------------------------------------------------------------


TO KEVIN, FROM MOM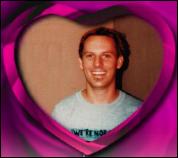 Be with God, Kevin Dear
May angel wings fold you near,
And when I feel a gentle breeze
Or hear a songbird in the trees
I will know that you're not far,
That singing bird is your guitar.

You gave to me
The first real love I ever knew,
A sweet, 'Here Mommy! I made this for you!"
(A little picture you just drew.)

But my heart
So filled with pain
Won't let go
The you I know.

Of baby days to teenage rage
Of hopes anew all gone askew

To try so hard on your own
Is the you I've always known.

Never mind, Oh precious son
Though your earthly days are done

A rainbow high in the sky
Or softness of a night bird's cry
Or on my back
---- a warming sun.

Lets me know
From a merciful God
That your heavenly life has just begun.

Dear Kevin,
"We've only just begun"

Good-bye my precious son,
Until we say hello again.
I love you.

"Mom, Moms, Hey Mom"
Written April 22, 1997









Member: Jackie
Virigina, USA





~~In Loving Memory of~~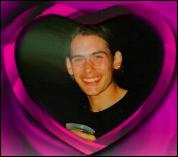 JOHN POLAND ("Jack") (20)
10/18/79 - 04/11/00

Dear Jack,

You were dads and my creation of love. In you we created something more
maggnificent than any cathedral or shrine -A dwelling for an immortal soul. The
tiny perfection of our baby's body. As we watched you grow in mind and body the
miracle of your life kept unfolding. Your energy, wit, charisma, your smile and
mostly your love came so natural. You were a friend, confidant, jokester, thinker,
companion, brother, grandson, uncle, son, and priceless gift. Most do not have in
a lifetime the sheer joy and love you have given us in your too brief twenty years.
" We treasure our memories of you and our times together, We remember you with
love, But most of all, We love you and remember you always."

Forever loving you, mamma and big daddy

But when the angels called for him much sooner than we planned, we braved the
bitter grief that come.....but will never understand.

John Joshua "Jack" Poland
October 18, 1979 - April 11, 2000









Member: Sandy & Phil
New York, USA





~~In Loving Memory of~~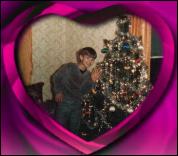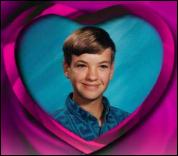 DANIEL (Danny) BOSSARD
(19 years, 9 months and 10 days old)
3/17/77 - 12/27/96

Danny Bossard, 3/17/77 - 12/27/96

I try not to be sad, I try not to cry,
I try not to continually wonder why?
I try to understand what you were going through, and why you did what
you thought you had to do.
I try to smile when people say, "You seem to be getting stronger every day."
I try real hard so they don't see the overwhelming sorrow that is deep inside of me.
I try to close my eyes and vision your beautiful smile,
which is something I haven't seen in such a long while.
I try to believe as I pray that we will be together again someday.
I try each day to get through, but honey it's so empty here without you.
I try to remember that where you are now you're happy and can't be hurt anymore,
but it doesn't take away my hope for a miracle, once again to
see you walk through my door.
Danny Bossard Charles Chuck (at age 5 this is what you called yourself) you never were just a part - you were my heart.
I miss you my SUN.

I Love You!
Mom









Member: Margaret DeVore
Michigan





~~In Loving Memory of~~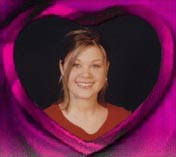 Becky E. DeVore (18)
01/06/85 - 04/19/03



In Our Hearts

We thought of you with love today,
But that is nothing new.

We thought about you yesterday,
And the days before that, too.

We think of you in silence.
We often speak your name.

Now all we have is memories,
And your picture in a frame.

Your memory is our keepsake,
With which we'll never part.

God has you in His Keeping.
We have you in our Heart.

~~~~~~~~~~~~~~~~~~~~~~~~~~~~~~~~~~~~

We love and miss you Becky !

Mom & Dad
Jason, Brian and Bradley

Margaret & Michael DeVore


Parents of Becky
1-6-1985 ~ 4-19-2003






Hosted by Webgrfx.com