"Where would you be now...?"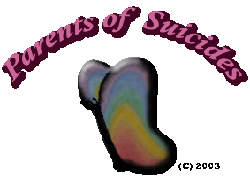 Member: Kathleen McGrogan
Ocala Florida





~~In Loving Memory of~~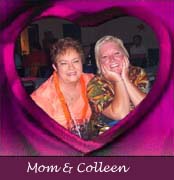 Colleen Elizabeth Perrera (44)
02/21/62 - 09/14/06

We are connected, my child and I,
By an invisible cord, not seen by the eye.
It's not like the cord that connects us till birth
This cord can't be seen by any on Earth.
This cord does its work right from the start.
It binds us together, attached to my heart.
I know that it's there, though no one can see,
The invisible cord from my child to me.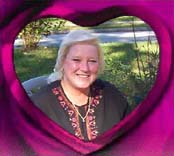 The strength of this cord is hard to describe.
It can't be destroyed, it can't be denied.
It's stronger than any cord man could create,
It withstands the test, can hold any weight.
And though you are gone, though you are not here with me,
The cord is still there, but no one can see.
It pulls at my heart, I am bruised...I am sore,
But this cord is my lifeline, as never before.
I am thankful that God connects us this way,
A mother and child--Death can't take it away!

Author Unknown

We will love and miss you forever,
Love,
Mom & Bob, Brother, Children, Grand Kids, and
Your loving husband




Member: Jules (Julie) McKenzie
Opelika, Alabama





~~In Loving Memory of~~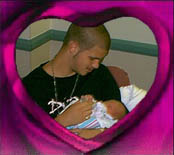 Brandon Robert Hand (Forever 19)
07/20/86 - 06/13/06

The below was written by a friend of mine and read at the service.
She was like a second mother to Brandon.

~~~~~~~~~~~~~~~~~~~~~~~~~~~~~~~~~~~~~~~~~~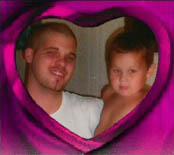 "Brandon"
He was a handsome young man. Someone you could not pass by.
For he was not one of the empty souls you sometimes encounter. His eyes were
a window through which was seen who he was no matter his situation. He was a
gift to all who knew him.
As a child held his arms open to everyone he knew. He never judged anyone.
He only hoped to receive what he gave…unconditional love. It was as if his worth
depended on it.
He loved his family deeply. His mother, brother and sister were the ones he
knew he could depend on. In return he gave them his loyalty.
His friends he considered a blessing. He never judged them nor forsake them.
They knew they could count on him. They knew they could let down their guard with
him and be safe as who they were. His heard was a place they could rest.
As a young man, inside he was still the loving person he was as a child. He still
believed that one day he would be given what he desperately longed for… security.
His greatest joy was his son. He did everything in his power to be the kind of father
all children deserve, they kind he never had. He did not consider it a responsibility.
He considered it a privilege.
He deserved consolation.
He deserved love.
He deserved security.
He deserved significance.
He deserved peace.
For us who had the honor of knowing him, we realize our loss…
He will be missed…
Rest in Peace, my son….
No more pain…
I love you dearly.. and miss you more.




Member: Rebecca Baker
Akron, Ohio





~~In Loving Memory of~~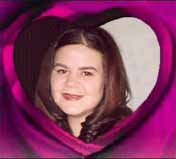 Jennifer M Odom (28)
04/02/75 - 11/24/03

There are so many questions
As to how this happened and why
There's no one to ask
Nothing left but to cry
Why did you leave?
Why did you go?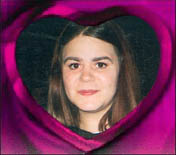 So many people
Now missing you so
How could this happen?
It seems so unfair
Why didn't you scream it?
Everyone would have cared
Why didn't you tell them
Let them all know
There was so much pain
You felt you must go
The smiles she gave so freely
Masked the pain she felt so deeply
No one wants to die
Of this I am sure
Just to escape the pain
So hard to endure
Loved so by all who knew her
Such a terrible tragedy to lose her
Rest In Peace - Dear Jenny
by Terrie Lutz 12/02/2003
In Memory of Jenny Our Beloved Daughter,
Sister, Aunt and Friend.
We will always remember you with love!
Mom, Jeff, Chris, Jenn and Paityn

Member: Mary Rivera
California





~~In Loving Memory of~~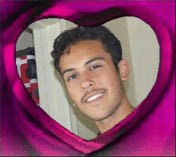 Gabriel Andre Rivera (16)
11/13/89 - 09/04/06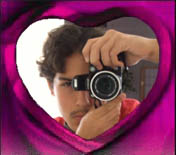 Member: Kate Borau
Carshalton Surrey England





~~In Loving Memory of~~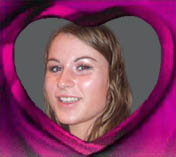 Isabel (Izzy) Laura Borau (17)
10/06/89 - 11/10/06


Member: Mona
Toronto, Canada





~~In Loving Memory of~~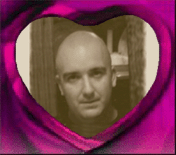 Marcel Roy
10/25/72 - 04/26/04

On Apr. 26, 2004, Marcel ended his life in a Memphis
motel room, leaving behind his wife, two daughters,
his parents, a sister and a younger brother,
and numerous friends and relatives
.
©
You never said I'm Leaving, You never said Good-Bye
You were gone before we knew it, And only God knows why
A million times we've needed you, A million times we've cried
If our love could have saved you, You never would have died
It broke our hearts to lose you, But you did not go alone
For part of us went with you, The day God called you home
A heart of gold stopped beating, Two shining eyes at rest
God broke our hearts to prove, He only takes the best
To some you are forgotten, To others just a part of the past
But to us who loved and lost you, Your memories will always last
©
In memory of Marcel, our loved son
Who God called home to be with him
We love and miss you every day that goes by.