Member: Marjorie Nelson (Marge)
Chatham, New Jersey





~~In Loving Memory of~~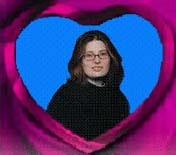 Michelle Danielle Nelson (24)
06/24/80 - 11/10/04

"Missy's Boot"
For Michelle Do you remember?
"I am an animal lover who loves traveling."
Never think that I have taken my final voyage.
I loved my old boots and my stockings of a thousand colors,
But I no longer need them.
Barefoot and freed, I fly where I wish. - - Paris? a luminous marvel!
When I return home I hear the voice,
The sweet voice of my Lord who welcomes me:
"Come dear Michelle, sit down near me."
There we are surrounded by animals, superb and splendid.
While I am caressing them,
My Lord caresses my hair arranged according to my own taste.
And each time that you think of me
It is like a supple and tender caress.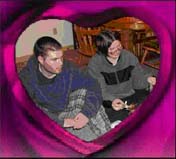 Are you looking for me?
I am always there near you. Do not look in any other place.
Do you hear the timid voice of the little cat?
Give her caresses and I shall feel them.
Listen to my voice when I whisper to you:
"Forgive me and do not forget me."
English Translation: Hiram Jenkins
Poem: Hiram Jenkins
~~~~~~~~~~~~~~~~~~~~~~~~~~~~~~~~~~~~~~~~~~~~~~~~~
"Christmas 2004"

My Dearest Family which includes my many Friends,
There is nothing any of us can do that is unforgivable.
Too many precious minutes are wasted on hurt feelings.
Life is just too short.
We don't fully appreciate what we have in this life until it is taken away.
I cry for my beautiful daughter who has moved on
to another phase of her life's journey and left me behind.
I sat next to her in the hospital, her hand resting on top of mine.
I talked to her, begging her to come back to me.
Please, just one more day,
one more word, one more chance to get a hug and a kiss.
If you just wake up, my beloved, we will all go to Disney World.
If you will just open your eyes up and smile one more time.
Last summer Missy and Alby came to visit me.
We had a wonderful time. We went deep sea fishing. We all stood together at the back
of the boat, joking about our fishing skills. Missy and I caught sand sharks, Alby caught
a sea robin. It was fun just being together, it didn't matter that our nets were empty.
We were full of joy just being together, feeling the wind against our faces,
smelling the salty air.
After we returned to land, we dinned on fish that other people caught.
It did not matter that we had no fish to brag about.
You can always buy a fish.
We went to Great Adventure. I have the picture that says a thousand words.
I thought our time together would be longer.
We all take each other for granted. We expect to be able to wait until another day
when we aren't so busy, when we have a day off.
I will talk to you later, I have to go now, I am very busy, you know.
In case there is no tomorrow or next week, I will tell you now. I love you.
My life is forever changed because of the times I have spent with you.
Let us make more free time and spend it together. Give your children another hug.
And don't let the sun go down with any anger.
Tomorrow you may not get the chance to make up.
Let this Christmas be the most loving one ever. Give each other the gift of your time.
Let us Rejoice and be glad we have each other today,
don't wait for Christmas.


Member: Rochelle Sides
Texas





~~In Loving Memory of~~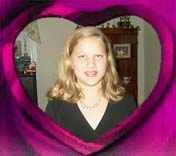 Corinne Celice Wilson (13)
09/30/91 – 10/06/04

My sweet baby girl,
We miss you more than you can imagine.
Your loving heart and beautiful soul were a mother's dream come true.
A better daughter one could not ask for.
I thank God everyday that he chose me to be your Mommy,
you made me very proud and always will.
I love you my precious Boo.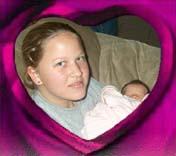 My daughter, Corinne
Your sweet little face, more beautiful I would never see
As you laughed and learned through the years
You made my life so complete
This is what I will remember, through the tears
I can see your long blond wavy hair
That you fought with everyday
If you only knew, its shine and beauty, were so rare
So smart and naive all at the same time
A sweet innocence mixed with true grit
These are the things we will never forget
As I listen to the songs that you sang with beauty and grace
I will remember the little girl that made me so proud
And I will see your soft, beautiful face

Member: Florence (Lynn) Fernandes
California





~~In Loving Memory of~~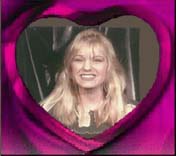 Donna Elaine Simmons (27)
10/13/71 - 11/28/98

The Wind He has fallen from the stars, and he touched our hearts. With his kindness
and soft words, he made us believe we had self worth. No one to put you
down. He'll hold your hand to see you through, with love shining in his eyes, warmth in his arms,
he gently reached the ground. He spread his arms wide to fit us all in a tightly woven embrace.
You could see the tears shining on his face. With a last smile and kind word or two, he left our
world to be with the Father, Our time will come too.
By Donna Simmons 12/1997
Donna's Children