Member: Maria Angela Weber
Cincinnati, Ohio






~~In Loving Memory of~~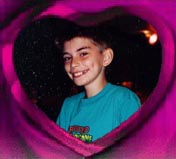 Raphael David Patanelli (16)
06/22/83 - 02/13/00

"The Reaper And The Flowers"
There is a Reaper whose name is Death,
And, with his sickle keen,
He reaps the bearded grain at a breath,
And the flowers that grow between.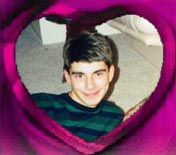 ``Shall I have nought that is fair?'' saith he;
``Have nought but the bearded grain?
Though the breath of these flowers is sweet to me,
I will give them all back again.''
He gazed at the flowers with tearful eyes,
He kissed their drooping leaves;
It was for the Lord of Paradise
He bound them in his sheaves.
``My Lord has need of these flowerets gay,''
The Reaper said, and smiled;
``Dear tokens of the earth are they,
Where he was once a child.
``They shall all bloom in fields of light,
Transplanted by my care,
And saints, upon their garments white,
These sacred blossoms wear.''
And the mother gave, in tears and pain,
The flowers she most did love;
She knew she should find them all again
In the fields of light above.
O, not in cruelty, not in wrath,
The Reaper came that day;
'Twas an angel visited the green earth,
And took the flowers away.
Henry Wadsworth Longfellow
"THOSE WHO WAIT ON THE LORD SHALL RENEW THEIR STRENGTH;
THEY SHALL MOUNT UP ON EAGLES WINGS





Member: Doris Berlanger
Lebanon, Pennsylvania






~~In Loving Memory of~~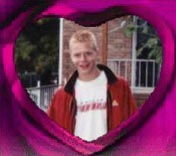 Mark Berlanger (21)
04/22/81 - 11/16/02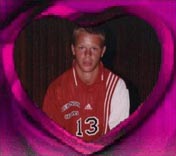 Member: Monique Heasman
South Africa






~~In Loving Memory of~~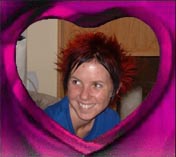 Monique Heasman (20)
02/05/83 - 11/21/03

My sweet Angel,
I always knew that you were too special for this oh so ugly world. We miss you so much your sense of humour which could sometimes drives us around the bend cause you just seem to understand it. We miss your naughty laughter and your funny comments about stupid things we said.
Most of all we miss just everything you stood for in your short little life and the fact that you never had a bad word to say about anybody.
My Darling I hope you are happy up where you belong and that you are dancing with the angels.
We love you madly. Miss you and thank you again for just beeing you
All our love
Mom Dad Andrea and Kai





Member: Scarlot Barreras
Killeen, Texas






~~In Loving Memory of~~


Erica Danielle Barreras (16)
08/15/86 - 04/25/03

To Those I Love and Those Who Love Me

When I am gone, release me, let me go
I have so many things to see and do
You must not tie yourself to me with tears,
Be thankful for our beautiful years.

I gave to you my love, You can only guess
How much you gave to me in happiness.
I thank you for the love you each have shown
But now itís time to travel on alone.

So grieve awhile for me, if grieve you must,
Then let your grief be comforted by trust.
Itís only for a short time that we must part,
So bless the memories within your heart.

I wonít be far away, for life goes on
So if you need me, call and I will come,
Though you canít see or touch me, Iíll be near
And if you listen with your heart, youíll hear
All my love around you soft and clear.

And then, when you must come this way alone,
Iíll greet you with a beautiful smile
And say,Ē WELCOME HOMEĒ

Author Unknown


Member: Carol Puckett
Tennessee






~~In Loving Memory of~~


Dustin Puckett (16)
3/01/86 - 12/09/02




Dustin was, and still is the light of my life. My life was built around Dustin. Dustin was my reason for existence. He was my only child, and oh what a joy he was. He always knew just what to do or say to make me smile. What I would give for one more smile and one more of his special hugs.

I love and miss you Buddy, and you are forever in my heart. The first picture of Dustin and Cassie (cocker spaniel that ran away 3 months after Dustin left. I had Cassie for 11 years!) The picture was taken only one month before Dustin left. The second picture speaks for itself. It was a fishing trip with his Uncle Chuck in 1999.