Member: Deb Jones
Washington, Illinois





~~In Loving Memory of~~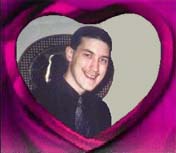 Garry L. Jones Jr. "Skeet"(24)
"My Sunshine"
05/07/78 – 08/13/02
FACE OF AN ANGEL
The face of an angel is all that is here...
Not ready to leave, but has to go,
Wants to go back, but God says no.
Leaving your life is a scary thought,
I guess it's something that can't be fought.
A mother, a father, a sister and friends,
A meaningful life that suddenly ends.
An angel is what he was meant to be,
Now just think of all he can see.
Looking over his family night and day,
Saying I love you in his own special way.
In the night we sleep, in the day we cry,
He watches us all from his star in the sky.
~ author unknown ~
=====================
I asked God for water,
he gave me a ocean.
I asked God for a flower,
He gave me a garden.
I asked God for a Tree,
He gave me a forest.
I asked God for a Miracle,
He blessed me with you.
Love Always,
Your Momma






Member: Morrigan
Pennsylvania





~~In Loving Memory of~~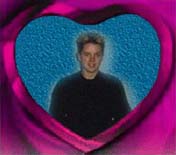 Shawn Jonathan Bannon(23)

01/10/73 – 10/18/96
I love you Shawn!
  'Till we are together again....
Mom
Dolphin Magic
Lulled to peace in the arms of silence
a hidden song flows like a stream.
Within the notes I know that I am here,
I know that I am whole.
The darkness within is splintered by the starfire jewel.
The angels of the sea appear to me in sanctuary.
I call to them for healing,
I call to them for peace.
I feel their emotions, their essence, their joy.
And beyond the furthest reach I sense their presence.
A spell is cast.
The turmoil within is banished, my soul at peace.
Calmed by a love - so unique, so pure.
I look into the starfire jewel, the eye of the dolphin.
Our spirits have joined.
by Diane Gollner ( © 1996 )









Hosted by Webgrfx.com