Member: Joyce Hatch
Colorado





~~In Loving Memory of~~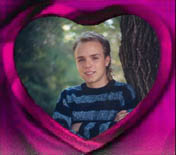 Christopher Lee Hatch (24)
01/27/73 - 08/16/97
Goodbye Chris
It's time to say goodbye, to someone that I love, But my heart hides from the pain, Say it isn't so, I wasn't ready for him to go. And now it's time to say goodbye
Goodbye to a brother and a son, Goodbye to Uncle and a friend, Goodbye Chris until we meet again, I will hold you in my heart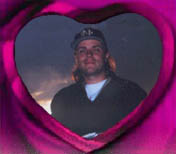 I know now you are free, From all your pain, I know now you are free, For all eternity, In a place that knows your name, Jesus is waiting there, With His arms open wide, Welcoming you to come inside
Hello to a brother and a son, Hello to uncle and a friend, Hello Chris, I've been waiting for you, Because you held me in your heart.
The Father has a plan, Though it's hard to understand, Trust in Him and You'll see, It's not up to you, And it's not up to me. Trust in Him and say goodbye, Goodbye to a brother and a son, Goodbye to Uncle and a friend, Goodbye Chris until we meet again, I will hold you in my heart.
In Loving Memory of Christopher Lee Hatch
1973-1997
By Jennifer Hatch


Chris will be remembered for his love of his Family, Friends, The Colorado Mountains, Music, and his love for God. He had hoped to be "used by God in Music" that never happened because he developed Schizophrenia just as he entered the prime of his life. Chris we remember you in your life and we remember you in your death. You will not be forgotten and are in our Reunion forever!! Until our Joyous Reuinion, Make Music with Jesus and The Heavenly Host!!
Love, Mom and Dad




Member: Barry and Viv Stewart
Stafford / UK





~~In Loving Memory of~~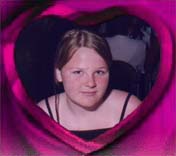 Michelle (Shelly) (13)
27/02/89 - 26/05/02
MUCH LOVED DAUGHTER, SISTER AND AUNTIE
YOU ARE ALWAYS SAFE IN OUR HEARTS
LUV U 4 EVER SWEET PEA
There could be no other like you; no one could ever take your place.
But we'll always have your memory, to cherish and embrace.
We'll always have the love, you gave without reserve.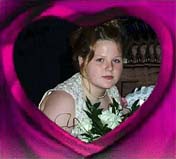 Together with all your hugs and kisses,
Your warmth, your strength, your nerve.
Material wealth you never had, you didn't get the chance.
Your riches were the love you gave to all, without a second glance.
So close your eyes and rest my love, you gave us all the best you had.
And we'll never forget, but always love and miss you, Shelly,
Thank you, with love from Mum and Dad XXXXX