Member: Patty E.
Phoenix, Arizona





~~In Loving Memory of~~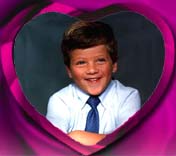 Andy Erlach (16)
07/20/84 - 03/26/01

POEM
(Written by Andy, as a homework assignment)
I am funny and smart.
I wonder how the sky is blue.
I hear the bamboo growing.
I see myself driving a new car.
I want to get out of school.
I am funny and smart.
I pretend to be Batman.
I feel great about being able to float above my friends.
I touch an angel.
I worry about falling to the ground.
I cried when my cat died.
I am funny and smart.
I understand that you can't depend on anything.
I say, "Stuff happens."
I dream I can always do what I want.
I try to always hit a bull's eye.
Andy Erlach
1984-2001
Written June 10, 1999


~~~~~~~~~~~~~~~~~~~~~~~~~~~~~~~~~~~~~~~~~~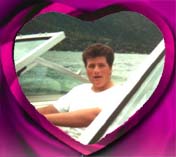 My dear Andy, Beneath that big guy that you are is the heart and soul of a gentleness that many people were fortunate enough to see.

Oh, if only I could hug you forever and tell you how much you are loved. I have missed you so much.

The last time we talked you had so much to say. We talked about you coming for a visit during spring break, going to Rawhide and spending time in the sunshine by the pool.

Andy, your twinkling blue eyes when you were playing a joke on someone are forever etched in my mind.

Your successes in sports were such a thrill. Remember when you swished the basket from center court when you were only five years old? The crowd gasped!

Remember when you hit a homerun in little league? You hit the ball farther than anyone ever had.

What a great little soccer player you were! You scored a goal from the centerline and amazed everyone.

You always gave it your all.

Sixteen is such a hard age. You can't see the future and you have forgotten your past successes.

Parents have dreams about what our children will become. Who knows what lay ahead of you, Andy? Now our dreams won't come true. We will not get to know what you could have become.

Andy, I will never say good-bye to you. Little memories pop up of, "Remember when?" Fishing, tubing on the lake, learning to dive, learning to roller blade, riding your bike, riding your skateboard, playing ball, birthday parties, Christmas…..

I can see you everyday in the laughter of children, the gentleness and playfulness of a kitten, the magnificence of a sunset…..

Andy, you graced our presence for such a short time. The world is sadder without you here. You are in our hearts and minds forever and you are so loved.

You always loved balloons so Adam and I are sending you balloons filled with our love.

Andy, I love you with my whole being.

I will see you later…..
Love, Mom




Member: Brenda
California





~~In Loving Memory of~~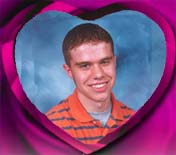 Jeff (16)
07/07/84 - 08/27/00 (16)

My Jeff-My heart. He is every breath I take, and the pain of him being gone hurts deep down to my very soul. It hurts to breathe-that is how I describe Jeff killing himself. My little buddy had just turned 16 in July. Jeff had so many friends-not just acquaintances-good, good friends, male and female...The phone rang constantly for him-everyone loved Jeff. He was kind, caring, considerate, polite, loving, funny-the list is endless. His suicide was a shock-I still cannot believe it. I think the beginning of the end for Jeff was when his dad died 11 months and 18 days before that, on September 9, 1999, of suicide (gunshot wound to the head, also). Although Jeff was a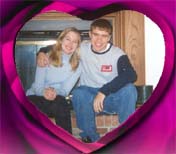 private person and would not talk about my husband's death, I would find him in his room holding the laminated copy of his dad's obituary and just crying and crying...He would make me leave his room, and then I would go into my room and cry for him. I ached for my son and my daughter that their father killed himself, and never in a million years did I think Jeff would ultimately do the exact same thing. He did the same thing that forever changed his, his sister's, and my life forever. Now, I am Brenda without Jeff. I want him back.....my every thought is that I can't believe he did this, that I wish he had not done this, that I could have five more minutes with him (okay, ten), that I could turn back the clock and bring his dad back, that I could comfort him and tell him I would go to any lengths to help him, that he did not have to do this....Why, Why, Why....My son shot himself in his temple at 1:45 a.m., with a 357 Magnum, on a Saturday night/Sunday morning, on August 27, 2000, while I was in the next room. Oh my God, I have so much to say to him. That night was the only night he didn't say "Goodnight Mom, I love you"...He always said that....always.....One of his friends told me she always loved how when Jeff would check in, or for whatever reason he was calling me, that he always told me he loved me, no matter who was around. I loved him so much. I wonder how I will get "through" this. I learned so much more about him through his friends after his death, and how profound of an impact he has made on their lives. I was blessed to be his mom for 16 years, and my prayer is that I can get through the horror of his death to remember the joy he brought to my life. Jeff died on his sister, Kelly's, 19th birthday (the other picture). God bless each and everyone of us "survivors of suicide". I love you so much, Jeff~I can't cry hard enough..........
Loving you forever and then one more day,
Brenda
~~~in memory of Jeff Thomas~forever 16~~~






Member: Barb and Tracy
New Jersey/UK

~~In Loving Memory of~~


Lisa(16) 02/29/84 - 09/13/00
Victor(17) 03/01/83 - 11/19/00

~ angel friends ~










Member: Diane Nichols
Owosso, Mi





~~In Loving Memory of~~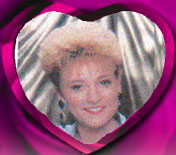 Cindy(35)
10/31/66 - 11/01/01

She had two daughters, Lindsay (11) and Courtney (7), who loved their mother very much.

If tomorrow starts without me and I'm not there to see,
If the sun should rise and find your eyes all filled with tears for me,
I wish you wouldn't cry the way you did today,
While thinking of the many things we didn't get to say,
I know how much you loved me, as much as I loved you,
And each time you think of me, I know you'll miss me too,
If I could relive yesterday just even for a while,
I'd say good-bye and kiss you and maybe see you smile,
So when tomorrow starts without me don't think we're far apart,
For every time you think of me, I'm right here in your heart.






Member: Diane





~~In Loving Memory of~~


William Hamilton Proctor (Bill )(21)
01-31-79 - 8-31-2000

Beloved son of Diane P. Yates
and Brother of April P. Stone

Always missing you.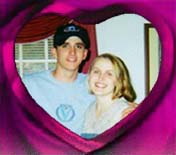 Hosted by Webgrfx.com